Started in 1986, CrafTime is a family-owned business that specializes in high-quality buttons at an affordable price.
In addition to custom buttons, we are now offering our own line of finished buttons in various categories, including holidays, bar humor, and adult-themed humor.
Wholesalers and retailers, please contact us for pricing.
Catalog and Ordering Forms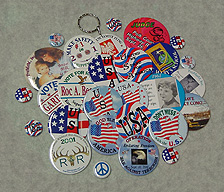 View samplings of our high-quality finished designs by downloading one of our catalogs:
If you would like to see samples of other categories, please contact us.
To order any of the designs included above, download and fill out our order form, indicating design numbers and quantities, and send the form and a check (made out to CrafTime) to the address provided.
Custom Button Pricing
We believe in keeping our prices affordable on all quantities, and offer special discounts for large orders. Please contact us for a price quote. Note that large orders may be subject to scheduling.
Hexer Solitaire Peg Games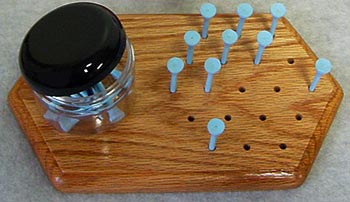 CrafTime is now offering hand-crafted solitaire peg games, including our own patented "Hexer." Each game is available in genuine oak, cherry, or walnut. They are also available in an economy model without the storage container. With several skill levels of play, these are sure to entertain players of all ages. The "Hexer" has advanced levels that are virtually impossible to solve. All games can be purchased directly at retail prices or at wholesale in larger quantities for qualifying buyers.
For more info on how your club or school can use these as a simple fundraiser, contact us now.
Dealer Rewards Incentive Program
All customers are eligible, but must be registered and assigned an authorized dealer number prior to ordering.
Several incentive plans are available to suit your needs. Simply help promote CrafTime Buttons with our advertising accessories and receive a credit to your account for all orders referred. Use your credit on future orders or redeem for special gifts.
Qualifying charitable and fundraising organizations may request cash donations as payment. Small sales display stands, business cards, and flyers can be purchased from us at a reasonable cost.
Contact us now to start earning $$.